We got a late start on art this year so my first lesson wasn't until mid-November. I chose Pablo Picasso as our first artist to study because he had so many styles and used different mediums. He's well-known and I thought he would be more familiar to the kids.
I checked out several Picasso books from the library hoping I could hand them out and let the kids browse, but there were an awful lot of Picasso's works in the books that are not really appropriate for kids.  So I showed them specific works and we discussed what Picasso might have tried to express or what the subject might be thinking. (I should really record what the kids say – they're very thoughtful and insightful.)
I gleaned a handout about Picasso from Practical Pages for the kids binders. Our first project, inspired by the fall leaves, came from Pink and Green Mama. And our second project came from Incredible Art.
For this project we needed leaves, which I brought from home, for reference material. We also needed black construction paper, white chalk/pencil, and Crayola construction paper crayons. (I found some glitter crayons too that the kids had fun with.)
(You can see the free detailed lesson plan on Pink and Green Mama)
We started by using the white chalk/pencil to draw a series of straight intersecting lines across the paper. Then we drew leaves on the paper, making sure the leaves overlapped some of the lines. Using the crayons, we then colored in the leaves and areas outside the leaves, changing colors/patterns each time we crossed over one of the lines.
This slideshow requires JavaScript.
What I liked about this lesson was the kids had enough time to finish at least one, if not two, in the 1-1/2 hours I have each week, there was a lot of room for creative expression, and that it was easy to apply in a variety of grade levels. The kids really had fun with this one as you can see!
Our second Picasso project revolved around his Abstract/Cubist Faces. I improvised on the materials for this project. (You can see the free detailed lesson plan on Incredible Art). We used white ledger size card stock, markers or colored pencils or crayons, black Sharpie pen and a black oil pastel.
The instructions went generally like this (I had to change it a bit to cover all the different grade levels)…
Turn paper horizontally and draw a face shape in the center. Then draw a face shape on either side, so you have a total of 3 face shapes. (Whatever shape they wanted to make it)
Draw a line down the center of each face.
We studied each other's profiles then on one side of each face we drew nose and mouth. (So one side of the face looked like a profile, then the opposite side will look like a face from straight-on)
Then we added facial features and characteristics – eyes, eyebrows, ears, beards, glasses, whatever – wherever they wanted and as many times as they wanted.
Then we added hair. Each face could have different hair but the hair had to touch

and

touch both sides of the paper.
 The drawing was then gone over with black Sharpie pen and they colored it in with markers, colored pencils or crayons (their choice).
To finish we went over the Sharpie lines with the black oil pastel.
We had a lot of different interpretations of the instructions and so each of the kids pieces were very different…
This slideshow requires JavaScript.
This project was a learning experience for me. Either I'm supposed to learn to be more clear in conveying instructions OR I'm supposed to learn that it doesn't really matter how they interpret the instructions. Or maybe both…. I'm learning right along with the kids. I think this Picasso quote may apply… "Art is a lie that makes us realize truth." Either way, the kids had fun and it was a relatively easy project to convert to a variety of grade levels. (I might have changed it for the 1st grader and preschooler to maybe one face or a smaller piece of paper. My little 1st grader needed a lot of help but did such a great job and really thought out her project. My preschooler lost interest pretty quickly and I should have simplified it a lot more for him.)
Since doing this project I've found many other project ideas for Picasso Faces that looked fun too, including (but not limited to) these…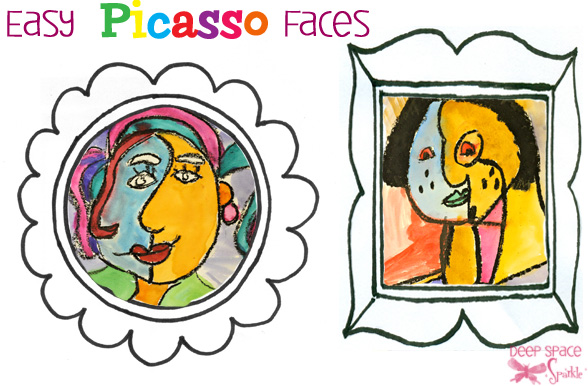 Easy Picasso Faces Art Project from Deep Space Sparkle
Picasso Monsters from MrsPicasso's Artroom
Portrait of Dora Maar Art Lesson from Deep Space Sparkle
Picasso Faces from Think Create Art
and
Pablo Picasso Self Portraits by Porters Paint Palette
~~~~~~~~~~~~~~~~~~~~
Next we'll study artist Wassily Kandinsky and start working with paint and studying color theory…